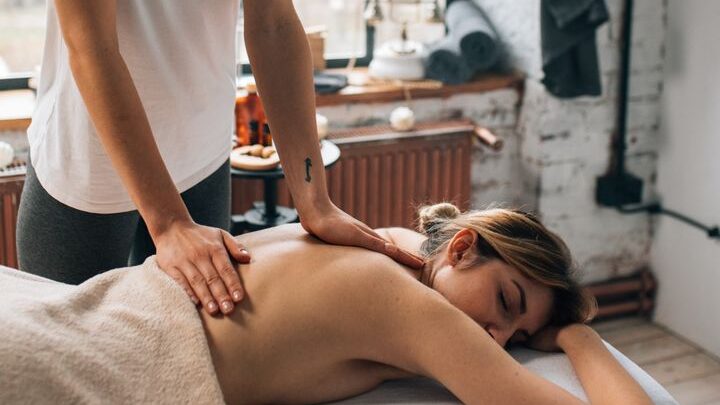 What is sports massage?
Sports massage is a type of massage therapy that focuses on treating current injuries, as well as preventing future injuries. It is most often used by elite athletes before, during, and after events and training sessions.
It is very similar to remedial massage, in that a combination of Swedish massage and deep tissue massage techniques are usually used.
Who can benefit from sports massage?
Because of its benefits in preventing and treating injuries, sports massage is most commonly used by athletes prior to, during, and following training.
However, anyone who exercise regularly can also benefit from it, from "weekend warriors" to regular gymgoers.
Although many injuries can benefit from sports massage, it is not suitable for all injuries. You should always check with the massage therapist to be sure it's safe for you before commencing sports massage therapy.
What does sports massage involve?
Before commencing your massage, your sports massage therapist will ask you a series of questions to find out more about the type of sport you play or exercise you engage in. They will also ask about the injuries or issues that you are experiencing, which will help them to identify the parts of your body that should be targeted during the massage.
You will then be asked to undress, and lay face down on the massage table. Towels will be used to protect your modesty.
Most commonly, a combination of Swedish massage and deep tissue massage techniques will be used. However, depending on the issue you are experiencing and area of the body being treated, other treatments may sometimes be used. These may include dry needling, trigger point therapy, deep tissue work, soft tissue release, fascia release, positional release, neuromuscular techniques, stretch therapy, and cross-fibre techniques.
Your sports massage therapist may also develop a treatment plan to guide your ongoing treatment moving forward.
What are the benefits of sports massage?
The benefits of sports massage therapy include that it:
Supports healing and expedites recovery times from injury

Helps to prevent future injuries

Prevents muscle soreness and aching after exercise 

Optimises athletic performance 

Increases endurance 

Increases flexibility

Improves circulation, blood pressure, and heart rate 
How can I get started with sports massage?
Sports massage is just one of the types of massage we offer at Chiro & Integrative Therapies. We are based in Mudgeeraba on the Gold Coast in Queensland, Australia.
To find out more about sports massage, give us a call today on (07) 5607 0161. 
Is sports massage covered by my private health fund?
Some private health funds cover sports massage. However, what is and isn't covered can vary between different insurers and coverage plans. To find out if your private health fund covers this type of therapy, check with your insurer directly.
Who will be performing my sports massage?
At Chiro & Integrative Therapies, your sports massage will be performed by one of our qualified sports massage therapists.
Can I have this type of massage if I am not an athlete?
Because sports massage aims to prevent and treat sports injuries, this type of massage is most suited to athletes, as well as those who regularly exercise.
If you live a more sedentary lifestyle, and do not regularly exercise, another type of massage might be more suitable for you – for example, deep tissue or Swedish massage.