Chiropractic for Children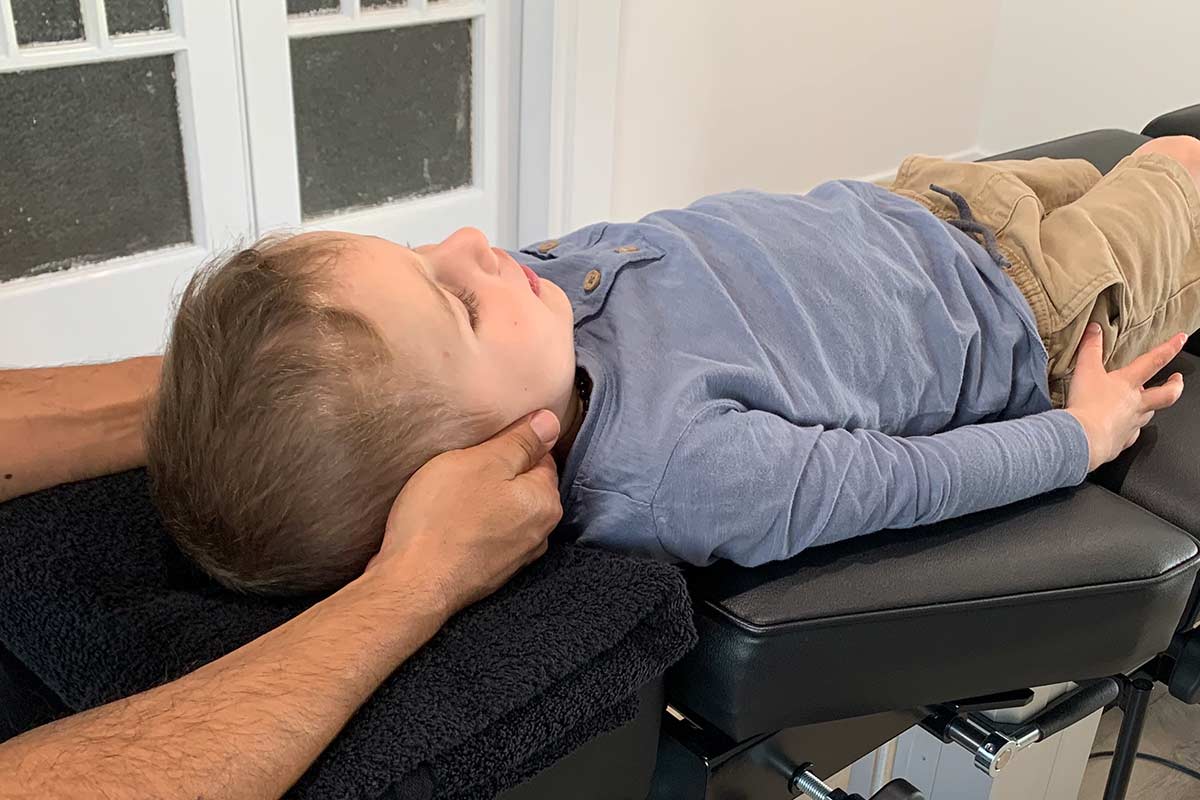 What is chiropractic treatment?
Chiropractic treatment is an allied health service and type of physical therapy that helps to prevent, diagnose, manage, and treat musculoskeletal disorders. 
Using their hands and other mechanical instruments, chiropractors manually manipulate and adjust the spine, as well as the body's other joints. This helps to achieve optimal alignment.
More detailed information about chiropractic treatment can be found at here.
Who can benefit from children's chiropractic treatment?
You've probably heard about the benefits of chiropractic treatment for adults and the elderly. However, what you might not realise is that infants and children can also benefit greatly from this type of therapy!
During childhood, the most significant growth and development of the bones, muscles, joints, and spine occurs. If any issues occur during this stage of development, they can have a knock-on effect and continue to negatively impact the child's health and wellbeing later in life.
For this reason, it is important that we nip any issues in the bud early during childhood, and make the necessary corrections through chiropractic treatment. By seeking chiropractic care for your child from a young age, you can rest assured that any abnormalities, imbalances, or misalignments will be detected and remedied early.
What does chiropractic treatment for children involve?
Chiropractic treatment consists of a series of adjustments. These are quick, highly specific, small movements that are applied to joints with the intention of restoring proper movement and function. 
Chiropractic care for infants and young children involves low force low amplitude techniques. This means that adjustments for children are much more gentle than those performed on adults.
During your child's chiropractic treatment, you may hear a soft cracking, clicking, or popping noise as their spine and joints are adjusted. This is produced when a joint is adjusted, and gas bubbles are released within the joint fluid. This is very normal.
What are the benefits of chiropractic treatment for children?
The benefits of chiropractic care for children are slightly different to those for adults and the elderly. They include:
Ensuring they get off to a healthy start in life 

Correcting misalignments in the delicate spines of newborns and infants 

Preventing or correcting poor posture 

Increasing flexibility and range of motion 

Assisting with minor childhood health issues, such as earache, congestion, and asthma 

Providing pain relief to infants and children with medical conditions 

Correcting the mechanical effects of congenital disorders 

Supporting the immune system 

Improving sleep 

Ensuring optimal brain development 

Improving behaviour 

Preventing injury by maintaining the flexibility and function of the joints 

Helping to heal micro-traumas resulting from falls and injuries 
How can my child get started with chiropractic treatment?
Chiro & Integrative Therapies regularly treat children and infants, and are experienced in gentle and safe chiropractic care. We are based in Mudgeeraba on the Gold Coast in Queensland, Australia.
To find out more about how our chiropractic services can help your child, give us a call today on (07) 5607 0161.
Is chiropractic treatment safe for children?
When performed by a qualified and registered chiropractor, chiropractic treatment can be a very safe part of paediatric care.
In fact, over 100,000 children and infants visit chiropractors each year in Australia. This accounts for almost 7% of visits to Australian chiropractors every year.
What should I be looking for when choosing a children's chiropractor?
In Australia, all chiropractors are required to complete five years of training at university (either a five-year Bachelor of Chiropractic degree, or a three-year Bachelor of Science degree plus a two year Masters of Chiropractic), so be sure to look for these qualifications.
All chiropractors in Australia must also be registered with the Chiropractic Board of Australia to be able to practice.
You should also check that the chiropractor you choose is experienced in providing chiropractic care to children and infants. At Chiro & Integrative Therapies, we are highly experienced in using low force low amplitude techniques to deliver gentle and safe chiropractic treatment to infants and children.
Do chiropractic adjustments hurt?
No.
Often, people can be nervous about their children receiving chiropractic treatment after seeing movies or social media videos where dangerous pulling or twisting movements are performed on people.
At Chiro & Integrative Therapies, this is not how we treat our patients. Instead, we focus on gentle, comfortable, and pain-free chiropractic treatment.
At all times, we tailor chiropractic adjustments to your age, preferences, and the part of the body being treated. We have significant experience in providing age-appropriate chiropractic care to children and infants.
What can I expect during my child's first visit?
For your child's first visit with us, it is best for them to wear clothing that allows the chiropractor to see their spine and pelvis.
Your child's initial consultation will take approximately 40 minutes. As with all of our chiropractic consultations, this will take place in a private treatment room. You will firstly be asked to complete a medical history questionnaire on behalf of your child, which our chiropractor will then go through with you in more detail.
Our chiropractor will then perform the necessary orthopaedic and neurological examinations on your child. This will help them to determine a diagnosis. This will be explained to you and your child in clear and simple language, so that you both understand what is happening and what needs to be done to get them feeling better.
Based on this diagnosis, our chiropractor will formulate a treatment plan for your child. If our chiropractor decides that your child will benefit from chiropractic care, they will be treated during this first visit.
Future visits will take roughly 20 minutes, depending on your child's needs and the treatment required.