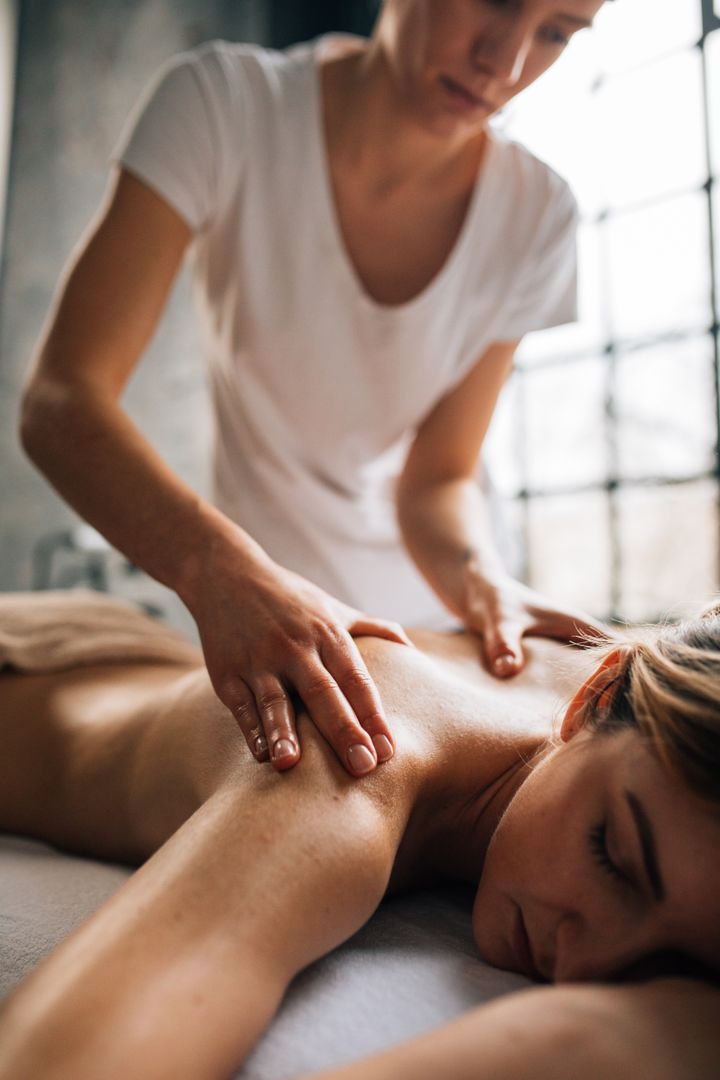 What is remedial massage?
Remedial massage is a type of soft tissue therapy, and one of many types of massage therapy. Because it focuses on treating tense, damaged, or knotted muscles, it is most commonly used in people who have musculoskeletal issues.
Although it shares some similarities with other types of massage, it also has a few differences. For example, relaxation or Swedish massages typically involve gentle and superficial strokes, and deep tissue massages use deeper, firmer strokes. Remedial massages create a happy medium between the two, with a combination of both commonly used depending on the issue being treated.
Another difference between remedial massage and other types of massage is that it's more targeted. Whereas deep tissue and relaxation massages are full body treatments, remedial massage focuses on rehabilitating certain muscles or body parts. These will be focused on in your treatment.
Who can benefit from remedial massage?
Remedial massage has a number of benefits for people with musculoskeletal issues, and certain other diseases and medical conditions.
It is commonly used in people with headaches, chronic pain disorders, fatigue, arthritis, anxiety or depression, and neck, back, or shoulder pain. It may also be used to treat and prevent injuries.
Although some medical conditions can be benefitted by remedial massage, it is important that you first check with your doctor if you suffer from any current medical conditions, as it may not be recommended in people with certain conditions or diseases.
This includes people with cuts or open wounds, bruises, current muscle or tendon injuries, broken bones, burns, varicose veins, blood clots, cancer, bleeding disorders, skin conditions, kidney or liver disease, fever, inflammation, or hypertension.
This type of massage also may not be advisable for pregnant women. If you are pregnant, please consult our massage clinician before commencing treatment so that they can tailor your massage to be a prenatal or pregnancy massage instead. You can find out more about our pregnancy massage services at here.
What does remedial massage involve?
Before commencing your massage, your remedial massage therapist will ask you about your goals for the treatment. They will also ask questions about the issues you are experiencing, which will help them to identify the parts of your body that should be targeted during the massage.
You will then be asked to undress, and lay face down on the massage table. Towels will be used to protect your modesty.
Depending on the body part and type of issue that is being targeted by the treatment, a combination of gentle and superficial and deeper, firmer strokes will be used.
What are the benefits of remedial massage?
The benefits of remedial massage include that it helps to:
Provide relief from the pain and symptoms of injury and certain medical conditions

Stimulate blood flow and circulation

Repair damaged tissues 

Promote healing and speed up the recovery process 

Increase range of motion and mobility 

Reduce muscle tension and tightness 

Reduce stress and anxiety

Improve posture 

Improve sleep 

Boost immunity 

Support overall wellbeing 
How can I get started with remedial massage?
Remedial massage is just one of the types of massage we offer at Chiro & Integrative Therapies. We are based in Mudgeeraba on the Gold Coast in Queensland, Australia.
To find out more about remedial massage, give us a call today on (07) 5607 0161. 
Is remedial massage covered by my private health fund?
Some private health funds cover remedial massage. However, what is and isn't covered can vary between different insurers and coverage plans. To find out if your private health fund covers this type of therapy, check with your insurer directly.
Who will be performing my remedial massage?
At Chiro & Integrative Therapies, your remedial massage will be performed by one of our highly qualified remedial massage therapists.
Does remedial massage hurt?
Because remedial massage involves the use of firm pressure and deep strokes, it is normal for some level of discomfort to be experienced during the treatment. However, our massage therapists are trained professionals who will do their very best to keep any discomfort to a minimum.
Soreness and stiffness are also both normal side effects for the first few days following your treatment.
If you have a low pain threshold, or wish to experience a gentler massage, another type of massage (such as Swedish massage) may be a better option for you.